PIRLS 2006 Encyclopedia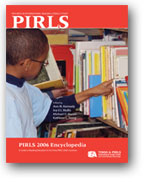 A Guide to Reading Education in the Forty PIRLS 2006 Countries
Edited by Kennedy, A.M., Mullis, I.V.S., Martin, M.O., & Trong, K.L. (2007), Chestnut Hill, MA: TIMSS & PIRLS International Study Center, Boston College.
Describes the contexts for teaching and learning reading in primary/elementary education within each of the forty PIRLS 2006 countries, including teacher education and training, reading curricula, classroom organization and instruction, and assessment practices.
Publications are available in Portable Document Format (PDF). If you need to download a copy of Adobe Acrobat Reader, which will enable you to read and print the reports, press the Acrobat icon.
The Encyclopedia is also available in a printed and bound volume which can be ordered for a fee. Shipping and handling is $5 per book for orders within the United States. International orders require US$15 per book for shipping. Print a faxable order form.